学校生活・進路
留学生シャンタルさんが高校生活を体験
2015.07.21
 7月13日(月)から1週間、ヨークベニマル文化教育事業財団留学生として、カナダのマニトバ州からChantal Forbes (シャンタル・フォーブス)さんが本校に滞在しました。Chantalさんは2年3組の根本向日葵さん宅にホームステイしながら、本校での高校生活を体験しました。
 本校は7月1 4 日 (火)から定期考査期間となり、高校の授業への参加の機会は少なかったものの、英語や書道の授業を体験したり、昼食時にクラスメートとの会話を楽しんだりと、本校生にとっても刺激に満ちた一週間になりました。また、大学・短大の授業に参加し、着付けや生け花、染色、調理実習など、多くの日本文化に触れることができたと本人は喜びいっぱいでした。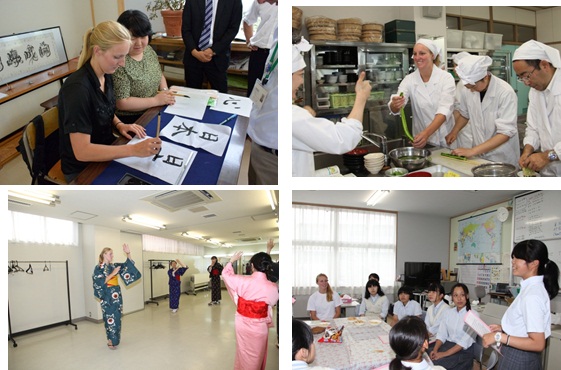 最後の日にはクラスのお別れ会や英語部のパーティーで交流を深めました。お互いの絆が長く続いていくことと思います。
以下はChantal Forbes (シャンタル・フォーブス)さんの留学体験や感想、生徒の皆さんへのメッセージです。
Message about my stay in Japan
My first impression of Japan was the size and how squished everything was. In Canada we have lots of space and big yards. Japan is a lot bigger than it looks. Everyone is really friendly and kind. I couldn't have asked for a better experience. This week has been the best week and I am thankful to be able to share it with everyone. Japan is a beautiful country and I will never forget my experience here.
The KGC and all the staff members have been amazing. I got to experience many different things that I would not have expected to do. They have gone out of their way to make this week the best week of my life. I couldn't thank them enough for everything they have done for me.
Some of my memories that I have made on my trip to Japan was going to experiencing a huge school and making new friends, going to the junior high school and talking about Canada. Going to the university/college to join an art class, calligraphy, flower arrangement class, kimono and also a cooking class. I have learned many different things and enjoyed every minute of this trip.
One of the best parts of the day is when I am in the homeroom class and lunch time with all of Himawari's friends and Mrs. Fukuda. They all are very friendly and I am glad to be in there class. Everyone is very welcoming and isn't afraid to ask me question. Mrs. Fukuda is a wonderful teacher and all the students really like her. She has also been very helpful and always has a smile on her face.
Himawari and her family have also been fantastic. They made me feel like I was at home. I could not have asked for a better family to stay with. They helped me out when I didn't understand even though they don't know that much English they did a great job.
Thank you everyone for accepting me into your country and accepting me into your school. It has been a blast!
Chantal Forbes
July17,2015